We have recently relaunched our notifications system, which means that you can be notified when new tasks become available. When you sign into the platform, you'll be prompted to turn on notifications by the page by this pop-up: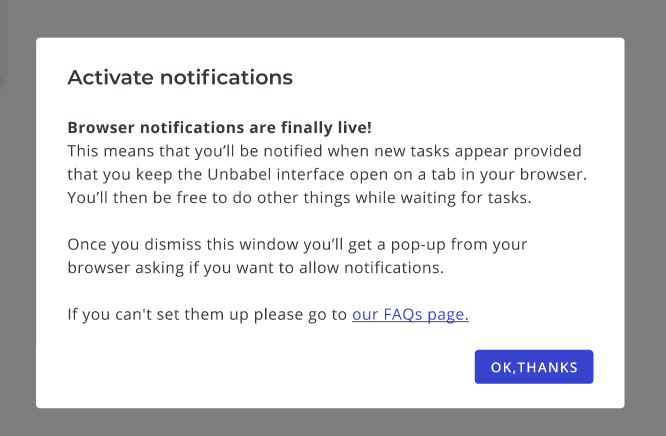 Once you press "OK" your browser will pop up saying that Unbabel would like to send you notifications. You can then accept or decline the notifications.
In order for notifications to work, you'll need to have Unbabel open in a tab on your browser. If you close it, you won't receive notifications.
If you need to manage notifications, change your preferences, or if you're having problems then please take a look at the general notification instructions for Chrome, Firefox and Safari. Please note that we don't support any other browsers and notifications won't work on them.
Notifications are available in:
most recent browsers on desktops
They don't work for:
Having trouble setting up your notifications? Please look into more info for Windows or Mac. If you're still having trouble after restarting, please reach out to us. We will need to know:
Which device you're using
What are the OS name and version
Which browser and version are you using