Hey there! Welcome to the Unbabel knowledge base.

Getting started as an editor with us is simple. This guide is here to help you with all of the basics so that you know exactly what to do, and when.

There are some restrictions on who can work with Unbabel. To find out more, see here.


Signing up

The first step is to apply to become an Unbabel editor on the Hub for Editors. When you set up an account with us, we'll ask you for a few bits of information and to consent to our use of your information and your agreement to our Terms of Service.

On the Hub for Editors home page, scroll to the middle, read the instructions, and click Join Unbabel. When signing up, select the language pair(s) you'd like to work with and follow the steps (if you don't see your language, here's why).

We operate with what we call language pairs. We do this because translation works in one direction, and while it's perfectly possible that you can work with translations the other way round, you will need to prove it as a separate skill. For example - if you have the ability to edit translations from English to French, it doesn't necessarily mean that you can translate French to English.

Your main languages should be the ones you are most comfortable with; those that you grew up with or use in your day to day. You can also pick any additional languages you would like to work with.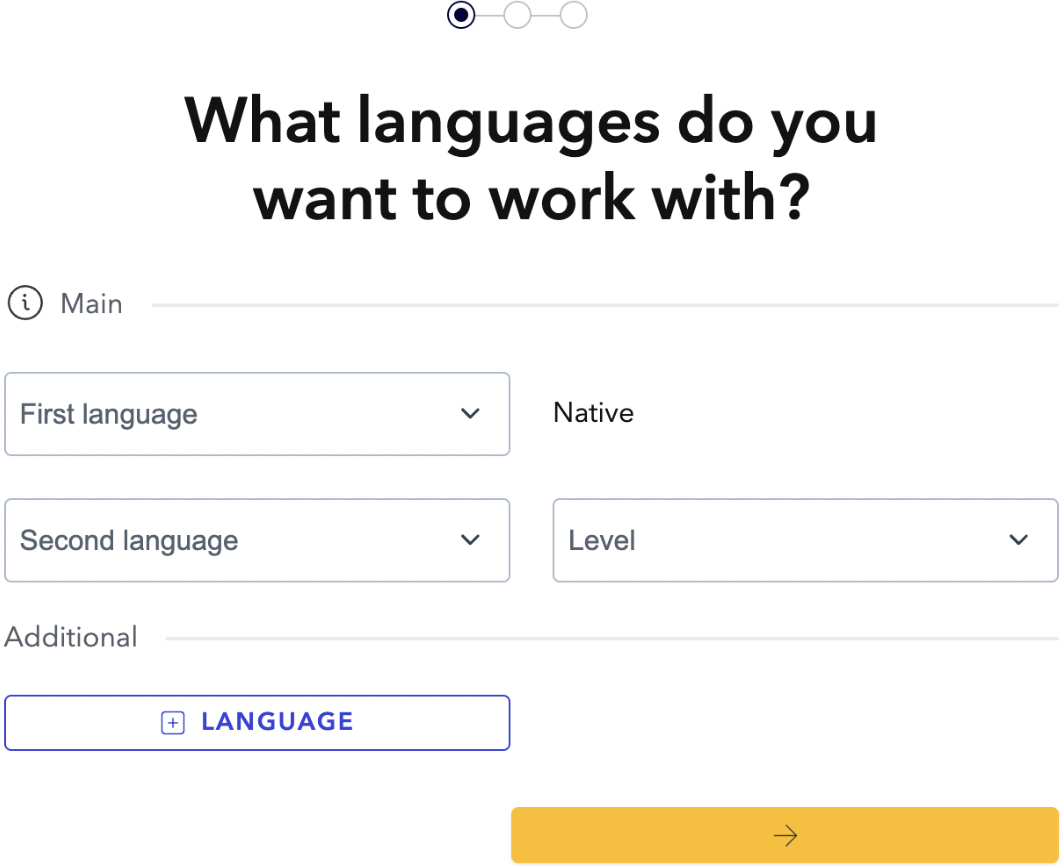 After adding your languages, click on the yellow arrow and you'll find out if the pairs are open or full at the moment.

As Unbabel has grown, we've received more and more requests to join our platform, but we can't provide work for everyone who wants to work with us. We therefore operate a waitlist system. If we're not actively recruiting for the language pair you picked, you can still sign up, and your profile will be stored with us. You'll be contacted by a member of our community management team if we have a vacancy that matches your language skills and background.

Next up, you'll need to add your name, nationality and email address. Please make sure you use an email address that is associated with your PayPal or Payoneer (only accepted if PayPal is not available in your country). Note that once your account has been created, we cannot change your email address. After this, please let us know your linguist background and what motivates you to work from Unbabel.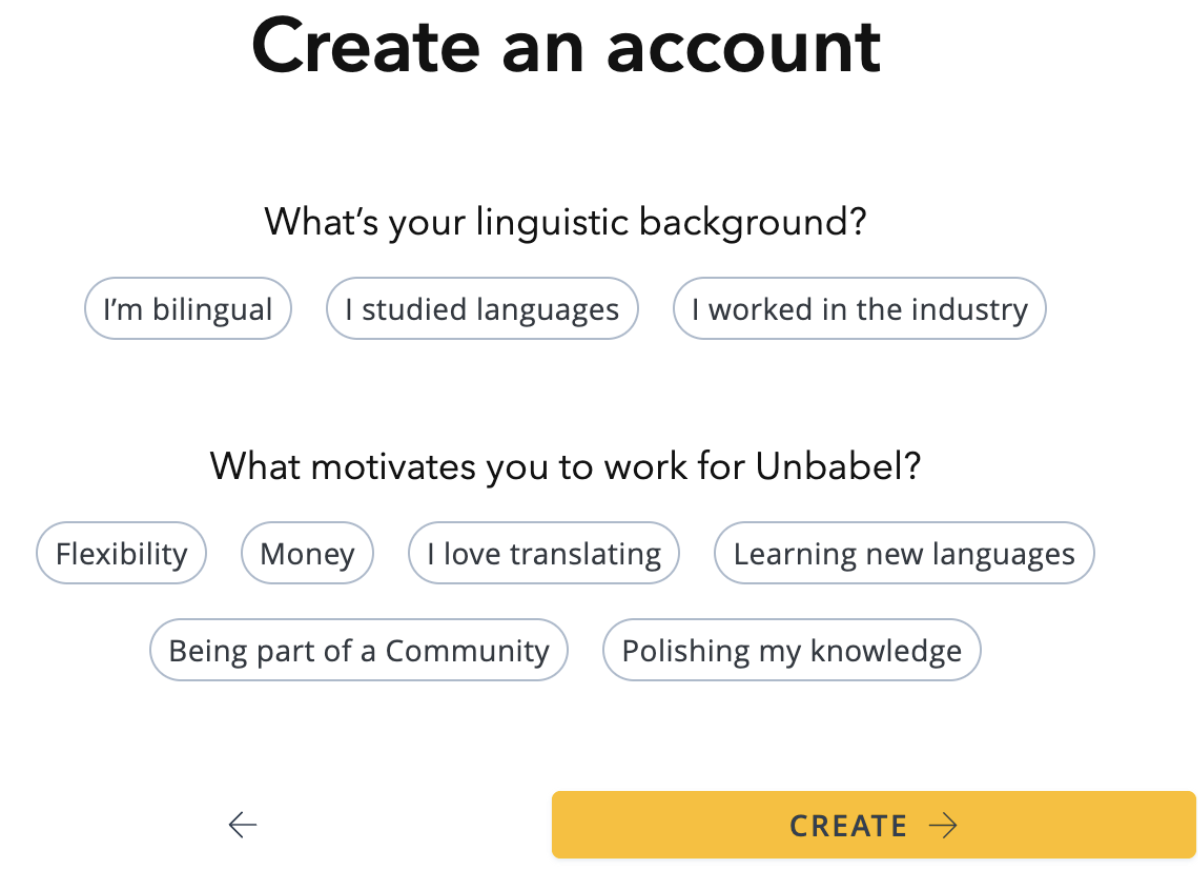 At this point, your account has been created!

There are now three steps you must successfully complete before you can become an editor:

Complete and pass a timed multiple choice test to assess your skills and attention to detail

Watch a guided tour of our interface, which will help you pass the following step
A test performing translations to an acceptable quality within our interface - this step will only be available for languages ​​we are actively recruiting. Otherwise, you will be asked to complete this in the future only when there are places available.


Language Test

Before you are able to join the Unbabel Community you will need to take a language test to confirm your proficiency — but we want to make sure you are properly prepared. Please take some time to read the information here.

You'll get only one attempt at the test. If you do not pass, the language pair will be locked and you will not be able to move forward in the process.

Interface tour

We want you to feel completely familiar with our platform, so we've prepared a short tour of the editor dashboard where you can see the most important functions that will be part of your day-to-day editing.


Skill test

This final phase will be a Skill test, using the tool you just took a tour of. The test consists of texts specifically selected and designed to evaluate your competence as an editor.

You'll need to complete five tasks before the system sends them for evaluation to determine whether you'll get access to paid jobs. It's really important to take the time to get these tasks right: find out how here. Remember, if you don't pass, you won't be allowed to try again.

Getting paid

One thing that we believe in at Unbabel is that editors deserve to be paid quickly, frequently and the full amount that they've earned.

Setting up payments is simple – find out how easy it is by reading this article.

Your Unbabel journey

Even when you've set up your account and you're already getting paid for tasks, it doesn't stop there. Our community is made up of editors who are talented and hard-working, but we also expect our editors to keep on learning. That means checking the Language Guidelines regularly, and taking time to understand your evaluation results when they arrive.